Cast
Main Characters
Dr. Mortimer Demke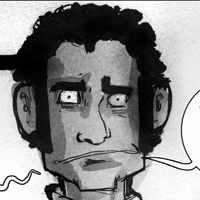 Mortimer (or 'Mort' to his friends, if he had any friends) Demke is an alienist at Augburn Asylum. He is polite to a fault, and doesn't much like making conversation. He would rather study people than involve himself with them. Mortimer does not care a lot about his surroundings or his appearance (although he is fond of his top hat), and doesn't get out much.
In spite of being rather introverted and skittish, Mortimer loves his work and his life. In a hypothetical intellectual beatdown between Freud and Skinner, Mortimer would root for Skinner, but still awkwardly shake Freud's hand and wish him luck.
Adella Bly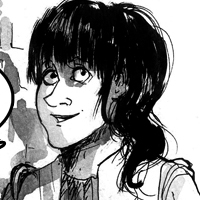 Mortimer's secretary and self-appointed sartorial assistant. She keeps the files in order, tidies what would otherwise be a wholly neglected office, and writes poetry. She forces Mortimer to have some sort of human contact. Unlike her boss, Adella is outgoing, and doesn't find it hard to talk to people. She is only working as a secretary until her writing sells.
If she lived in modern times and a real dimension, Adella's favorite poet would be John Ashbery.
Rowena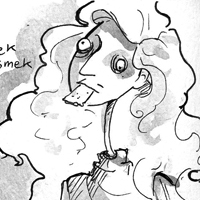 Rowena is an attendant, a manufactured pet/bodyguard for the rich and paranoid. Something went wrong in the making, though, and Rowena didn't turn out how most attendants do. She bonded to Dr. Demke at random, and now lives in his house and tries to help out. Her attempts are sometimes successful, sometimes not, and usually frighten everyone else involved. She can stretch her limbs out quite far, and has slightly more strength than an average human.
Rowena is a fan of bland, cheap foods and the color maroon.
Other Folks
Dr. Katherine Liu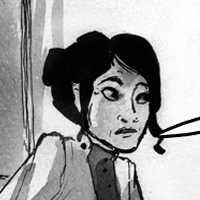 Dr. Liu is Dr. Demke's boss at Augburn. She's level-headed and does not like putting up with drama.
Dr. Jacob Gains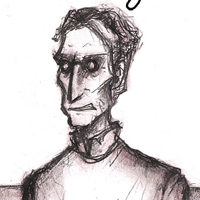 Dr. Gains makes attendants. He is not a nice man. He is, however, a smart and ambitious one.
Robot Dog Attendant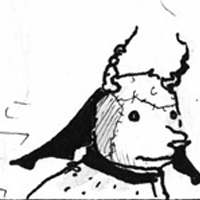 Who is this little guy? He's everywhere! His unofficial name is Fang.